I had a brilliant time last week at the Conservation by Design 25th Anniversary Conference celebrations. There was a good mix of talks and the opportunity to visit the factory and see how the products are made and put together. I found the polyester pocket machine quite mesmerising!
The day started off with Paull Messier discussing his collaborative photographic survey at the Hermitage. Paul gave an insightful talk on the Hermitage and the way the curators protected their collections from being sold off by hiding them within the catalogue systems. Gives a whole new meaning to the role of curators. He also described the way different departments protected their treasures from each other – something I think people can relate to even now!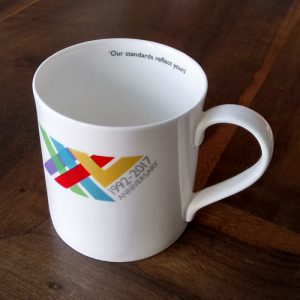 Setting up my studio I was looking at what to use instead of Gore-Tex during humidification, something I have been using for many years, and thanks to Mark Allen from Flintshire Records Office I found it! Hydra Air PTFE…. Mark was demonstrating its use during the day on some parchment. I'll let you know how I get on when it has arrived – just ordered some!
The day was topped off with an excellent cake – tasted as good as it looks. Although I did laugh at the fondant icing white gloves, what with the current debate about gloves in the conservation community. Should you use them v never use them! But maybe that's a topic for another blog post??
Many thanks to all the Conservation by Design staff for a well organised day,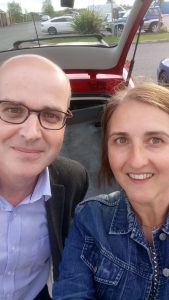 their hospitality was much appreciated and the mug will now be my official 'work day' coffee cup!
Lovely opportunity to catch up with friends and colleagues. Thanks also to the excellent Richard Hawkes for kindly passing on a large conservation sink – I really did come home with the kitchen sink!!