Conservation Services

What to look out for and what I can do for you:
Paper has been made and used for hundreds of years and examples survive that are many hundreds of years old. There are different reasons why paper survives – or does not!
There are simple steps that can be taken to ensure your paper items are preserved to prolong their life – and that is where I can help. The following is a list (not exhaustive) of problems you may find that I can put right.
Framing: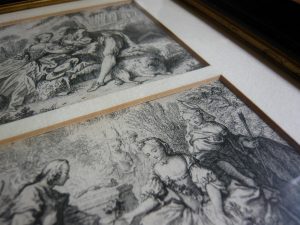 Correct framing is the most important thing you can do for your works of art on paper.
The example on the right shows a yellow brown acidic mount, the core of this mount board is made of very poor paper and has yellowed with age. Over time this can actually stain the art work where it touches it and cause 'mount burn' (the staining). I can treat the paper to reduce the staining. But of course prevention is better than the cure – using best quality conservation or Museum mount board will prevent this from happening in the first place.
Yellowing paper is a sign that the structure of the paper is deteriorating and as well as being disfiguring can shorten its life. It is possible for me to remove or reduce this yellowing.
Foxing: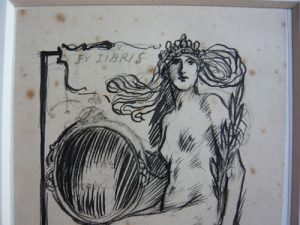 Foxing can be caused by a number of things.
Most foxing (reddish-brown spots) is caused by mould or fungal growth, sometimes it can be caused by metal particles within the paper that have reacted or rusted causing the unsightly stains. Foxing is damage to paper but is mainly disfiguring. Foxing is not always easy to treat or remove – but I can usually reduce it enough to visually improve the art work. An example of treatment is shown on the water colour below:
Tears and Repairs:
Physical damage of paper can be repaired.
If paper is not handled carefully damage can occur. Damage can also occur due to biological agents. The damage above was caused by mould and poor handling, but careful repairing from behind holds the paper together and although not invisible, is barely noticeable when seen in a frame.
Conservation Framing: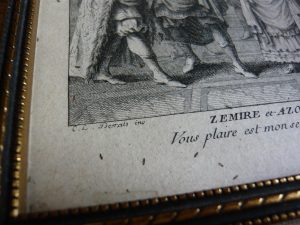 Correct framing is good for conservation or preservation.
We all want our art works to be presented in the best possible way to make them look good – but sometimes this compromises their preservation. This is where I can make sure that all framing is carried out to conservation or museum standards; I will use the best quality mount boards, ensure the work is not touching the glass and seal in the frame to prevent those thunder flies or thrips from getting in!
When things go wrong: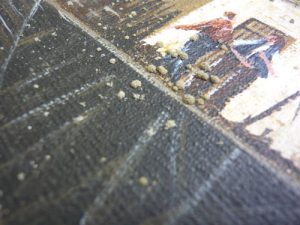 Water and moisture are bad for paper.
When art works get wet or damp mould can flourish, disfigure and cause severe damage. But it can be safely and completely removed if treated as soon as it starts. Not only is mould damaging – but it is also extremely hazardous to health – so needs to be done very carefully!
Tape is evil!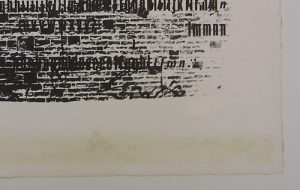 Pressure sensitive tapes should never be used.
But unfortunately they are, by people thinking they are 'fixing' a problem or just using what is to hand. The adhesive is the evil part and as it ages, dries out, stops sticking and discolours or brittles the paper. I can remove it but not always completely remove the associated staining. I only use tested conservation tapes and adhesives to repair and hinge objects in frames – guaranteed.
You can contact me to discuss a problem you have or make an appointment.