What clients say…
Just a selection of what my past clients say about me and my work:
Private Client June 2019
"We are really pleased with the restoration and reframing that Emily has carried out for us. Although probably not a great work of art I have a cartoon drawn in 1944 of my father while he was in the RAF in WW II and it has great personal value. For the past seventy five years it had been sandwiched between a sheet of glass and a piece of millboard, held together with insulating tape. Mould had grown on the inside of the glass and there was some damage to the cartoon.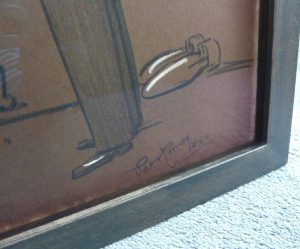 Because we live locally we took it to show Emily and she explained carefully what she could do and also showed us some of her other on-going projects in her workshop. We were happy to entrust the work to her and the repairing, restoration and reframing is all of an exceptionally high standard. The final cost exactly matched the estimate which Emily gave us when we first visited." Geoff & Chris Neuss, Llantwit Major
Private Client May 2018
We all have those pieces of art, bought online on impulse – because we like the artist and not the picture. So it was with our chalk drawing. It arrived even uglier than anticipated and languished for a while before we took it for a reframe. Our framer refused to touch it as it was firstly – potentially valuable and secondly – needed serious restoration and conservation. Go see Emily in Penarth she said. So we did. Things got a lot, lot better. We are complete novices in this space and Emily's patience, tact and skill were a joy. She gave us many options, documented her work, even tapped her network for some more information on our drawing and yes it does look like it's Slade school, mid 1890's! However, all of this paled into insignificance when she revealed the magic that she had worked What had been a dreary and ugly drawing was transformed into a vibrant, beautiful drawing, preserved for future generations. We can't thank her or recommend her enough. Diolch Emily. (Carmarthen)
Private Client April 2018
Emily has worked on a number of paper items for me. She is experienced and extremely knowledgeable, discusses the treatments clearly and gives competitive estimates. As expected from an accredited conservator, Emily uses museum standard conservation techniques. The cleaned and remounted Edwardian watercolours look wonderful. (Penarth)
Private Client November 2017
Finding anyone in Britain who does restoration work on treasured works of art, especially paintings, artwork that can easily be ruined, is challenging, and not a skill when done by a competent artisan technician that is inexpensive, so it was a great comfort to find that conservator Emily O'Reilly, who has impressive credentials, was local to me, which meant I could visit her studio, see examples of her work, and hear first hand about the processes involved that need to be carried out with real care and attention, and in a specific order, ensuring necessary time is allowed for each step or process. This all needs to be individually assessed, and tailored to each painting. It's a process that has probably not raised the value of our particular painting, a significantly 'foxed' watercolour, by more than the cost of the restoration, although this is just my own assessment. Fortunately Emily's cost was clearly lower than the other shortlisted restorer who was also not local, so we'd have needed to ship our painting to them, but the important outcome was that our painting has been visually returned to near perfect condition using materials that with care on our part will mean our painting sustains its restored condition for a lifetime. In short we are completely satisfied with each of the individual improvements, and overall we are delighted with Emily's work – J Harris, for L & M Harris (Cardiff)