Wednesday 6th September I spent most of the day at Cardiff Castle queuing up to meet an expert! I took some of my collection along, even took my 'A' level project (shockingly discovering it was 27 years old!)…. which reminded me that I really need to have a look at some of my own stuff: acidic mounts and thunder flies all need to be sorted out, but I don't know when I'll have the time! I met Dendy Easton – the pictures man….
I didn't make the cut for filming – but had a good time anyway. Met a couple of other 'mums' from school and we had a look at what we had brought along and gave each other appraisals.
We all enjoyed spotting the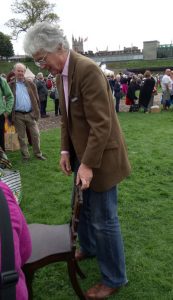 experts, Christopher Payne (antiques man) came and gave an impromptu appraisal on a hall chair, 2 people down in the queue from us.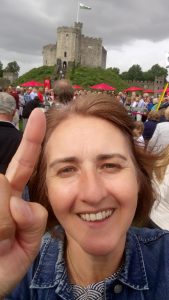 Shamelessly took this selfie of me with Fiona the Bruce! Zoom in and you can see her.
Antiques Roadshow celebrating 40 years this year – I remember watching it in the '70's – always cut short the Sunday bonfire fun as I recall!!